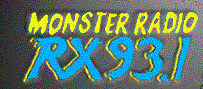 Last Sunday, while I was driving to church on a very bumpy/ hole-filled EDSA (oh how I hate EDSA!), I heard on the radio about this inter-
RX
radio program-contest called "In The Zone."
Igi Guerrero
was looking for someone who can be on their team. He gave out three questions on-air and asked for people to text-in the correct answers to be able to drafted to represent their team in the Super Trivia division. 
Q#1 How many teams are there in the NCAA?
Q#2 What's the capital of Turkey?
Q#3 Who are the goofy henchmen of Hades in the film Hercules?
Well, admittedly, I have doubts on the NCAA part (but later on I was right all along), and in the capital of Turkey part. So I texted Sean and asked him if he knew. I guess he searched it on the net. :) 
A#1 8 teams
A#2 Ankara
A#3 Pain and Panic
So I thanked Sean, and texted
RX
my
name, age, location, landline, and my answers
. After a while, I received a text from Igi, and guess what? I got in! I'll be representing their team (I'm not sure what team yet:\) in the upcoming "In The Zone" contest in
TimeZone
, Glorietta this coming Friday, May 16. In all actuality, I am both excited and nervous. I really didn't expect that I'll be included, but what the heck, I'll do it and try to get the gold! So wish me luck :3
Anyone want to come with me that day? It'll be from 1-6pm. hehe!
*Oh, don't ever TEXT while you're driving, okay? I texted while the red light was on. So I didn't text while I drove. Just to be clear. :)